Google has launched Carousel, a Knowledge Graph local search feature.
For well over a year, Google has been developing a Knowledge graph search feature that will deliver local results using images and a banner to present options more visually.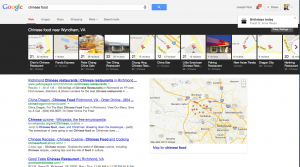 In the example to the left, I did a search for "Chinese food." As I started to type, Google served up "Chinese Restaurants Richmond VA." You can see the SERP (Search engine results page) below.
As I scroll across the banner, each image is connected to the appropriate dot on the map below and to the right of the banner. This is very convenient, especially if I am not familiar with the restaurant's physical locale.
If you look closer at the images in the banner, you'll notice some have photos of the restaurants, others on snippets of the map location. Basically Google is pulling the information from the listing into the image so you can see how many reviews each establishment has and the number of $$ signs indicating the price category.
Apparently there is an evolving set of key words that trigger the carousel. Here is a list of key words that trigger the local carousel. Note: this isn't intended to be a comprehensive list; it's a moving target being revised all the time.
Why is a List of Local Carousel Keywords Important?
Google is constantly searching for ways to deliver more relevant results. The goal of search results is providing useful information. In the example above, I am initiating a general category search. The results provide a quick comparison of local businesses within the category and I am quickly able to assess options based on location, reviews, price range and in some instances I can even see what the place looks like.
What are the Implications of the New Google Carousel?
Google is giving more weight to local detail in certain search categories, I expect the list will continue to evolve. Local businesses have an opportunity to show up in category results; however, it is important for businesses to maximize their local Google presence.
Four Important Google Carousel Considerations for Marketers
Make sure your business has a Google places presence that is as complete as possible. Use images, ensure information like directions and hours is current.

Create a Google Plus business page and post content regularly.

Listen – pay attention to any social conversations using free tools like social mentions. Check Yelp and other local sites for ratings. Google seems to give priority to businesses that have more ratings, specifically more positive ratings.

Pay attention to delivering a positive customer experience. Training, listening, asking for feedback. Reward behavior that exemplifies good customer experience.
As search algorithms become more sophisticated, social relationships will play an increasingly important role in what Google displays.